OF WATER FOR INNOCENCE @ CHILDHOOD'S ABIDING CURIOSITY
A memory trigger musing directly below inspired by fellow villager Ramesh Ghadi's observations on life around the village Saligao ,GOA ;of yore and now
SALIGAO CHEA ANTONACHE KOND MAROP.. by Ramesh Ghadi ,Saligoa GOA
Simran noticed it, while going for her tuition class..she has inherited this inquisitive quality of mine..with an insatiable curiosity to know the answer for her questions..and till then the missiles of her questions will keep on shooting..we keep on changing our routes, just to see those old "bidi....paazi..paggar..dovornne..sankov ..hude..merro ...bandh..voshi.."...sometimes I let her click the pic from my cell and She just loves it.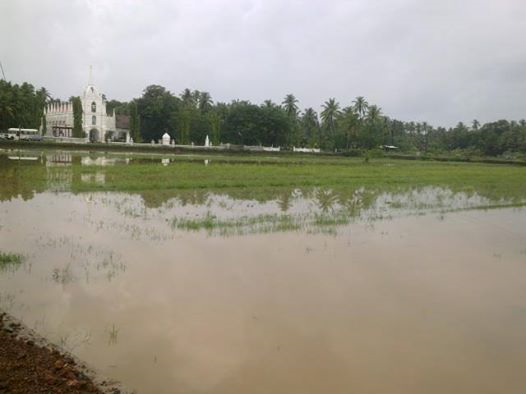 Yesterday while coming from the bandh next to the St. Cajetan's chapel ,Simran saw a flock of crows hoovering over a "kond" (pond) next to the " vhal". Few "bonki and two kirkire" were also trying to join that gang ,but the crows were violently pecking and driving them away.
Simran asked me "Dada, why have they gathered ..what's going on ".
For a minute or two I couldn't guess but then suddenly 'maji tube light pettli'.
It had not rained for past one week , the water level in that small pond from the field had gone down..it was drying. Fishes were having tough time to survive in that water ..whereas crows ,cranes and kingfishers were getting ready for the "buffet".
I explained Simran why the birds had gathered ..also took her to the field to have a closer look at the pond.
That scene brought me back to my childhood days..when Anton ..son of Kunbi Caitan along with his brother Jocklo would go to
these "kond" for "kond maarop "armed with old buckets...dhobe..spades in their hands, in the month of August -
September, when the ponds would begin to dry..
They would prepare one blockade of a bandh after digging the soil to block the water and then start emptying that water
hole. It was a tough job to empty that full "kond"
After an hour we would see "tiger, khorvo, kerri ,pittol, kurleo ,even kalundra and toppe," struggling to breath in that muddy water.
Although Anton and Joaquim were of our age, they had strength, power and quickness of an adult from all the hard work they did.
After two hours of that back breaking work, we would see them walking away with that booty of bucket full of fishes.
Anton was our childhood hero..one of the skilled coconut plucker, a best swimmer ..always he would be the one to be summoned when "kolshi" the copper pot would fall in the well...he must have done it more then hundred times...but once a freak accident took place in the well, while he was trying to remove a pot from the well and lost his life.
Those crows gathered in the field next to the bandh of St. Cajetan chapel reminded me those days of "kondi ani kond marpi
Anton"...I miss those beautiful days.
__________________________________________________________________
OF WATER FOR INNOCENCE @ CHILDHOOD'S ABIDING CURIOSITY
By A.Anthony Fernandes
__________________________________________________
Ramesh's musing this time with daughter Simran more often than not ,has got me musing too … and not for the first time !
It struck a mellow chord in memory of a night in Panjim forever arrested in sepia so last century ago.
It reminds me of a poem from Goan icon Remo's first book of poems entitled 'Loads' which I've slightly tweaked here
'THEY WALK SIDE BY SIDE
FATHER AND DAUGHTER
ONE CARRIES HER MERCURIAL CURIOSITY AND FUTURE (FUDAR) '
THE OTHER; HIS MELLOW MEMORIES'
BACKDROP: Ca.1980 A 'Licence Raj' pre Liberalization 1991 and leisure travel overseas was a near non concept for most.
The newly returned from 'phoren'/'abroad' ;already a legend in the making Remo FERNANDES ,returned home to Goa from his itinerant European travels and stunned Goa with his new band 'Indiana' @ a rammed to the hilt performance in Panjim. Somehow we NON 'inner circle' college kids were allowed in at the very last minute and so followed the treat of a lifetime.
His band included Remo guitar flute etc.; the now legend in his own right, poly-percussion powerhouse Bondo and Abel ( on bass guitar and now deceased I'm given to understand ? ).If memory serves right perhaps even a member or two from the Amsterdam Balloon Band which Remo sometimes gigged with.?
In a renaissance of personal creativity around then was born 'Loads' with Remo's verse , prose and beautiful sketches , one of which depicted a man ascending a stairway as also a younger man behind him carrying a suitcase .Do forgive me if I misquote from memory of yore though I'm sure someone who has a rare copy of the book will no doubt hasten to correct me and rightly so;)
From : LOADS
'They walk one behind the other
Father and son
One carries his baggage
The other his age '
By Remo FERNANDES
Re : Original watery themes continued : Fr. Nascimento in his book on Saligao makes note of the late 'Mikku' ( the 'bebo' frog catcher man' who caught them with shoe flowers (hibiscus) and a strand of hair etc.) and also quietly roamed the sparsely treed hills seeking forage for his 'bokdio' goats. ( Frogs are a delicacy when prepared correctly i.e. perhaps marinaded in a customized masala mix and then pan fried, grilled or barbecued etc. Frogs are now I'm given to understand a protected species ;at least in name.)
One fine day my neighbours and childhood friends Alex , his younger brother Thomas and I were able to do just that with a bit of string and such necessary ingredients including a spot of beginners p/luck , trying to emulate Mikku; except we did not sell them on .
No Sir-ee !
Very Huckleberry Finn style ( we managed to cook them off sitting by the banks of the 'vau ' that ran past a then enclosed 'porsu'( vegetable market garden) and paddy field where (Arjun )Harmalkar Residency now stands.
This shallow old well painstakingly once dug out by hand aeons ago; where Mikku and us local kids often tried our luck in; now probably lies unsung and unlamented underneath concrete and rebar.
It is these small moments of bonding with friends and nature and stolen morsels of a time of childhood innocence and discovery that we shall remember and not necessarily who won 'Kaun banega Crorepati' or whatever ( with due respect )
For these are the micro moments that make memory and identity of place ,time and heritage .
Simran and siblings you are some lucky kids indeed to have a father like Ramesh Ghadi, leaving his imprint and legacy; one capture and musing at a time.. which is how legends evolve and heritage made.
Sometime it takes time away from home ( a good many in my case ) to fully comprehend understand and appreciate this .With the wisdom of 20:20 hindsight ;perhaps realize that whilst the grass is not always greener away ; being away does expand and enrich one's horizons and ambitions ;making one see the possibilities of what is available to us on the ground and the rich potential and resources available to us.
If we only ask a different question with wide open eyes and minds…. !
What many in my generation and before lacked and/or were not exposed to enough for the most part then was vision, foresight /a culture of enterprise rather than job seeking , wisdom sharing / mentorship /+vity /confidence/ disposable income-cash flow and of course that great leveller of playing fields; Information is power : The Internet and the web. That being said the power of human 1:1 connectivity off line is irreplaceably invaluable .
Some notable inspirations and I only mention a few here were true mentors cut from diverse cloths ;self-starter types on the ground like Tony Noronha; father of Ricky and Rico , the late Ivan Rocha ( Parra and St.Britto's ) , the 'first rudimentary gym ' initiator (Joseph ?) (next to Joe Victoria's home where friends like Francis Barneto trained ), ex Burma ;Isa Vaz matriarch of the Vaz Clan @ Bandhar, Fr,Nascimento , the late Edwin Saldanha (artist, educator , home brewed winemaker , Scout Master etc.) Mr Saldanha possessed what seemed like miles and miles of vintage back issues of the National Geographic ;which is was gracious enough to allow us to read from ) What a Renaissance gem of a man !
I do wish now in retrospect that I had acquired Simran's innate sense of curiosity at an earlier stage in life ; but never too late it is. Thanks to people like Ramesh and Dominic's Goa etc. I have been lucky enough to have been able to fill in so many gaps in my own awareness of our rich Goan /Konkan etho-heritage. Knowledge, awareness and soft power-cultural capital are so interlinked .
I must here also pay tribute to my widely read , late father Lucian Fernandes ; who come rain ,blow or shine , always made it a point to pick up the Navhind Times from Casa Tipri ; the local newsagent and backroom bar where one of the then principals of the establishment himself worked at the Panjim based paper. ( Mario Cordeiro (son of the late Mr/s Martin Cordeiro ) now UAE based : once subbed on that paper if I'm not mistaken ?.Just as a few years later ,would our very own Fred Noronha ca. 1983 , en route to becoming the media maven he is today )
That and the few books available to us as kids via my alma mater Monte De Guirim , and sometimes a rare treat ; the Central Library have forged for many of my generation ; a portal into the world of reading and knowledge forever appreciated. Those Saligao Institute 'Reading Table' habitués like Indy cyber-journo -mediapreneur and childhood buddy Fred Noronha and others like my neighbour Annette ,Fiona etc. will well know whereof I speak .
In a then limited for us world of such cultural and other opportunities ; we cajoled , begged , borrowed , lent , salvaged ..whatever gleaning we could from any source.
Somehow that sometimes in sepia retro ,almost seems sweeter and more cherished and enjoyed than today's information tsunami overload and multi-tasking world of attention scarcity deficit .
(The Law of Diminishing Marginal Utility comes from left field to mind ,from a dusty economics class @ St.Xavier's via Profs.Gomes and Pinheiro )
To tweak a well-known cyber quote re: Solitude and the nature around Saligao for example ; 'There may be no Internet in the fields and forests ; but you will be sure to have a better connection '
Thanks Ramesh and Simran Ghadi for bringing back a little of that into our lives and constantly reminding us of what's real and worth preserving and propagating .
Please keep on SHARING.Every little bit helps and that goes for us all and the treasures we all possess in attics, front rooms and the backs of our minds !
For the generations to come and the ones still around ..!
A Mystique Moda – Indigo Road Media Cool-aborative Production -2014
________________________________________________
References and links
https://www.facebook.com/ramesh.ghadi1?fref=ts
http://saligaoserenade.com/wp-content/uploads/2012/04/salbook-big.jpg
http://goa1556.in/book/land-of-the-sal-tree/
http://goa1556.in/book/domnics-goa/
http://goa1556.in/book/another-goa/
https://www.facebook.com/1indigoroad?fref=ts
https://www.facebook.com/pages/Mystique-Moda/512289815523335?fref=ts
https://www.facebook.com/goan.global?fref=ts
https://www.facebook.com/groups/goan.global.resourcing/?fref=ts
Categories: None