Of late August monsoon rain ;fresh hot 'bhajias' and scalding hot reviving glasses of tea.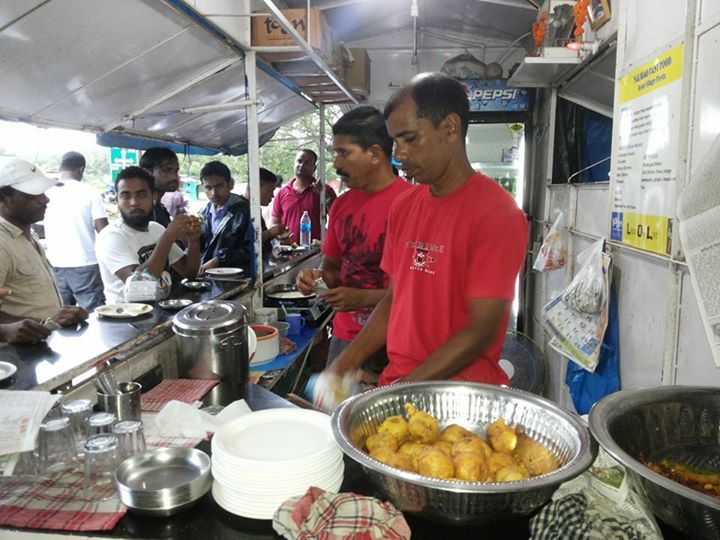 Capture and content immediately below via Ramesh Ghadi Of Ghadi Fitness Saligao @ https://www.facebook.com/ramesh.ghadi1" target="_blank">https://www.facebook.com/ramesh.ghadi1.
Posted on Monday 25th August 2014
'After a long gap of one week we had few chilled showers...sanjechi thondai podli ani sogleanchi pavlam bhojeancho..botat vodeancho vaas kadit kadit ,Anil Parulekarachea fast food joint'ar pavli...When it comes to xacuti,bhoje, botatvodem,..Anil is the best.
Nothing like hot kodoc chav ani gorom bhoji for this particular weather..
we call it mogacho paus..zor konna'c mogan gorom bhojeanche parcel gheun gelo zalear...!!
I just had my bite.'
Content below by https://www.facebook.com/a.anthony.fernandes.1" target="_blank">https://www.facebook.com/a.anthony.fernandes.1
____________________________________________________________________________
Of post late monsoon rain ;fresh hot 'bhajeas' and scalding hot reviving glasses of tea.
I can still sense in memory the fresh post shower 'sanjechi thondai'' and smell the 'kodoc chav' and 'gorom bhaji' atmosphere.
In the 70's there were no such slick operations to speak of locally ; but perhaps the odd 'gadekar' might be found stoking his kerosene fuelled 'Petromax' ( not to be confused with ;'petoi' re Max;) frying up a batch of 'bhoje, in at the time rather precious ,scarce and expensive vegetable oil with perhaps a hint of 'til' /mustard oil for flavour, or maybe that was just the flavour of reused oil perhaps somewhat past it's best enjoy by days.
No matter ;It was of its time and somehow in retro added charm, in an era when cash was not flush nor flash .People simply made do, used it up , wore it out , passed it on and repurposed it long before it became fashionable argot @ gaining currency .
It simply was what most had to do . .
The batter of gram flour ( chickpea ) and thinly sliced onions etc. would most likely have been made at home by a wife or someone in the family in a nearby house and transported over on foot (atop her head ' or on the big black rear carrier of a precious pride and joy family cycle. A rare family might even have 'Gasp' TWO !
The rock sturdy heavy metal carrier often doubled as an additional seat for a child or heavier burdens with a strong backwards retractable spring loaded supporting framework to keep the pay load in place ( not used on the child or pillion rider as far as I'm aware
.Any additional children were perched astride the cross bar with one more perhaps perched across the handlebars, giving a whole new meaning to morning school runs 
No bungee cords in them days so old pieces of inner tube and rope were used instead.
Think Hindustan and Humber or Raleigh; you can have it in any colour you like as long as it's black ( Sorry Henry Ford ) . The garish plastic flowers, fresh garlands , adorned and polished mirrors, dynamo , handlebar grip streamers and noises made by inserting a piece of paper so it struck the spokes etc. were all ' extras/accessories
I seem to recall that Shree ( late ? ) who operated his 'gado' across from St Anne's Chapel in Tabravaddo sometimes did this as also Dilip in Arrarim ( son of Purso the school teacher ). Kids would cajole their @'mozo jhu khata' weary folks to buy some which came wrapped in a 'classy' old newspaper (kagot) wrapping cone (Gomatak ,Usvadd and Navhind Times branded no less
,twisted off at the top to keep in the warmth , freshness and smells.
I'm convinced that the ink and paper made the wait ( if one did not dig in right away ) so much more worthwhile and tasted so much better. A bit like a curry that tastes ever so much on day two rather than fresh after its flavours have had a chance to marry. Oddly we now pay a higher price for these 'fashun' repurposed to become chic shopping bags that we once took for granted albeit in a much more rudimentary form
*( Here I take a moment to salute those in Goa and elsewhere who strive to repurpose old newspapers etc. into more degradable and reusable bags than the lunatic scourge of irresponsibly used and tossed plastic bags)
The acrid odours of fumes from the brass/copper/alloy? Primus stove on the floor ,mixed with the smells of deep frying bhoje, chillies in gram flour batter coating, and 'kapem' (sliced potatoes in a batter ) were a completely different aural,visual and gustatory experience which more modern slick operations cannot replicate and come across as somehow a little bit sterile and soulless .
We often embrace 'warp speed modernity' rushing to meet the future whilst forgetting to savour the moment
Thanks to Ramesh Ghadi for inspiring me to pen this vignette. Long may your passion abide and hope that others will join in and share experiences , pictures etc. in whatever fashion or style works for you.
That's also what keep heritage alive.. you . me and us together ..one moment and memory at a time .
FOR THE GENERATIONS TO COME AND THOSE STILL AROUND
A MYSTIQUE MODA – INDI-GOA ROAD MUSINGS PRODUCTION 2014
Via A.Anthony'Long Tony' Fernandes of Donvaddo, Saligao and London
Links /Pictures etc.
Bhajias: http://media-cache-ec0.pinimg.com/736x/c2/00/50/c200502f5be470118bae6741f50708fe.jpg
Old style Primus stove: http://en.wikipedia.org/wiki/Primus_stove
'Vintage' Indian push bikes: http://oldbike.wordpress.com/1980s-rmi-roadmaster-gents-roadster-indian/
Categories: None