For the generations to come and the ones still around.
'Ode to the flow; flow to the sea.
For fleeting is the passage of childhood FREE!
Should one tarry; an eyelid blink; one may well.....those unheralded moments of childhood freedom and bliss ....MISS!
For tempus and tide for no man, woman or child … WAIT !
CARPE DIEM aka SEIZE THE DAY ;For capricious LIFE'S tides are not always RUNNING YOUR WAY nor HERE TO STAY.
While the memories remain embedded in the subconscious..
In later life; perchance to the fore..... to come
Yet though dormant below the surface radar of consciousness' they may remain; forever and a day
Uncaptured precious moments of 'jivit' (in Konkanni) /LIFE' forever go away.
So from time to time ; drag yourself away from that 'idiot box ' and blinking hypnotic mesmerizing 'cur/se- or
The TV, Internet and Web will always be there in some form.
Yet though those fleeting golden moments, true value unbeknownst to the innocence of childhood, can be revisited after a fashion on line.......
HOWEVER those unheralded moments of cheap and cheerful innocent bliss at child's play
Well THOSE as you may well have noticed; THEY like paper boats on a roiling rushing river MONSOON … THEY do FOREVER go away....
A 'Just in Time - Oh Captain My Captain - Carpe Diem/Ano Summer 2014 Production' . A Tribute to Robin Williams' character Mr.Keating in the 1989 film 'Dead Poets Society'
(Co-inspired and catalysed by the down home musings, observations and captures of the legendary Ramesh Ghadi of Saligao, Goa (my paternal ancestral village)
__________________________________________________________________________________
'Porot vhal vhavonk lagla
churnikeachea xetantlean
Colgot'chea aagra koden
volta gheit dhavonk laagla.
porot vhal vhavonk laagla.'
'This vhal..or vhav..the nalla which starts from our hill of Saligao and slowly starts increasing the pace from the fields of vavok..ximnem...churniche..by the time it reaches Parra xim opposite Monte Guirim the vhav starts running like a new bride on her first visit to her father's house.
I grew up playing around this vhal..fishing for "toppe..thigur..potke. .".using " faskyo for kovde" plucking medicinal plants of "sapshinn..porpato" ..flowers from thorny "hanto..bodgi"..plants ..swam in that water on the wet wet monsoon days..plucked "churna ..borram" from those thorny plants ..removed honey from the honeycomb ...got almost bitten by the snakes while cutting the grass..
My childhood days are full of memories around this vhav ...hude ..and those green paddy fields..this vhal takes me back to those beautiful day..
जेन्ना व्हाळ व्हावोंक लागता
पाडका वरी परत मन
भुरगे जावन धावोंक लागता —'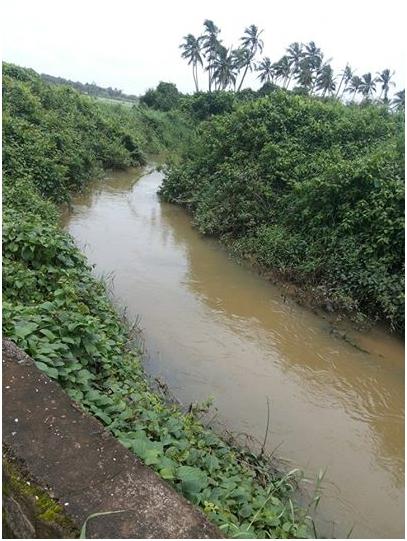 A Ramesh Ghadi Musing /Observation and Image /Saligao –GOA - Monsoon 2014
Categories: None